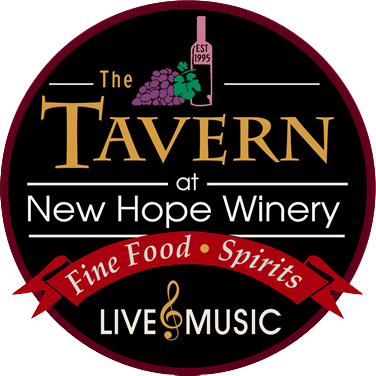 LIVE MUSIC @ THE NEW HOPE WINERY
RECENT FACEBOOK POSTS
Perfect weekend to be outdoors... join us for live music and a wonderful menu, all weekend long!
This weekend's menu by Chef larry Brown....
APPETIZERS
TOMATO BISQUE $9 Roasted Jersey tomatoes topped with house made pesto
CHEESE SLATE $22 A selection of cheeses with raspberry jam, toasted pecans, grapes, and crostini
PANE de SOL $22 Saffron flavored flavored flatbread topped with artichokes, colossal crab meat, fontina cheese and Caulkin Creamery Vampire Slayer cheese
WINERY FLATBREAD $16 Hand made flat bread with tomatoes, provolone, mozzarella, finished with a balsamic glaze
BAKED MUSSELS $16 Stuffed with pancetta, bell peppers, onions, garlic and parmesan cheese, with spicy roasted garlic aioli
CAESAR SALAD $15 Crispy romaine with house dressing, fresh croutons and grated parmesan
MELON SALAD $16 Summer watermelon and honeydew with cucumbers, tomatoes, pecans and a balsamic dressing
ADD GRILLED CHICKEN $8
ADD JUMBO SHRIMP OR SALMON $10
ADD CRAB CAKE $10
SANDWICHES all sandwiches served with chips
CHICKEN SALAD $15 Slow roasted and hand shredded chicken with tarragon, onion, celery and mayo on a toasted brioche bun
CHICKEN TACOS $15 Braised, shredded chicken thighs in adobo sauce, topped with pico de gallo and queso (2 flour tacos)
ROASTED PORK $16 Slow roasted, pulled pork shoulder on a crusty baguette with sliced provolone, tomatoes and roasted garlic aioli
CRAB CAKE $20 Served on a toasted brioche bun with tomato slices, lettuce and fresh guacamole
STEAK SANDWICH $20 Roasted Angus Prime Rib sliced thin, with horseradish mayo, mushrooms tomato on a crusty baguette
ENTREES
TUNA POKE BOWL $22 Seared Ahi tuna served atop brown rice with mango, honeydew melon,guacamole, cucumber, wakame and a sweet soy chili sauce
SEARED SALMON $27 Served with mango-melon salsa, asparagus, brown rice and mango-citrus herb glaze
GRILLED ORGANIC CHICKEN BREAST $25 Served with asparagus, roasted gold potatoes and a green peppercorn au poivre sauce
SEAFOOD DUET $31 Crabcake and three grilled shrimp served with brown rice, asparagus, and roasted red pepper sauce
VEGETARIAN PLATE $20 Roasted corn, Jersey tomatoes, asparagus, roasted mushrooms and roasted gold potatoes with a balsamic reduction drizzle
...

See More

See Less
be sure to join us this weekend for these fantastic performances! see you soon 😄
...

See More

See Less
💥JUST ANNOUNCED!💥 Joel Hoekstra & Brandon Gibbs are bringing their "Campfire Tour" to New Hope Winery on Sunday Sept 25th at 8pm!
Whitesnake's Joel Hoekstra and Devil City Angels' Brandon Gibbs have joined forces to form a powerhouse acoustic duo, playing limited dates in between working with their many other successful projects.
Their live duo performances are both intimate and high-energy, featuring a wide variety of material from bands that each of them have been a part of, along with innovative original music, and great stories from their respective careers. The energy and stage presence that radiates from these two make this a "must see" show.
Their mix of song choices leaves the audience begging for more as there is literally something for everyone. Both Brandon and Joel have a long history of bands they have either been a part of or performed with including Whitesnake, Devil City Angels, Poison, Night Ranger, Cher, and Trans-Siberian Orchestra to name only a few. While this show has an intimate vibe, don't let that fool you; the sound is bigger than ever with these two guitar extraordinaires bringing it home every show!
🎟 Tickets on sale now: etix.com/ticket/p/4055749
...

See More

See Less